July 25, 2022
NuVant EVc Hybrid Vehicle Battery Reconditioner Installation Requirements and Energy Use
You have decided to expand your business by adding the new NuVant EVc battery reconditioner. Great, what now? This post will explain exactly what is required for EVc-30™ installation, how the instrument will affect your electricity bill, what accessories are included, and what else you need to start building battery packs.
What set-up is required for EVc-30™ installation (electrical, space, etc.)?
The EVc-30 runs on 220 V, which is higher voltage than the typical US 120 V household outlet. For your installation site, you may need an electrician to install the correct 220 V connection (see image below). 220 V is more common internationally. For international customers, the EVc-30 comes with the custom power plug for your country's 220 V outlet and a step-down transformer for the laptop and cooling fan.
Required:
One NEMA L6-30R outlet (240 V, 15 A)

Two Type B US outlet (120 V, 15 A)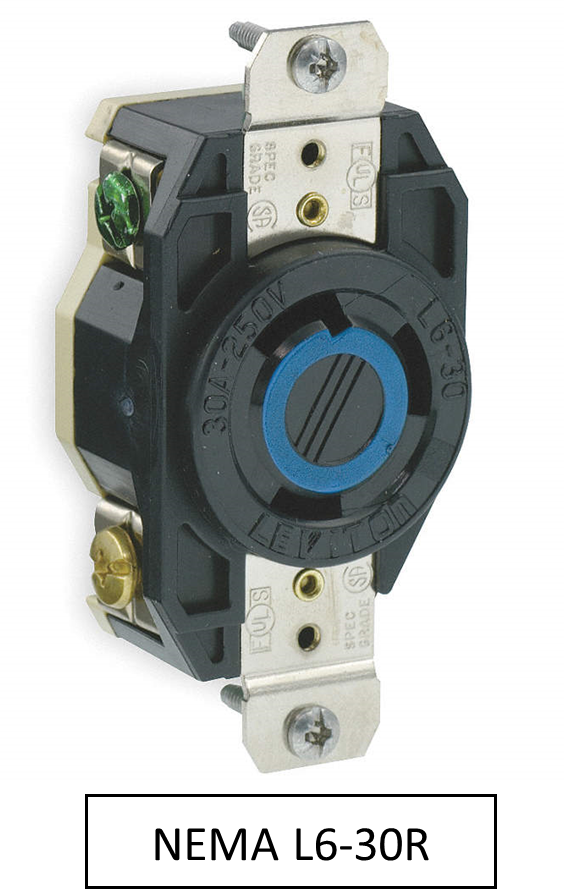 For your reconditioning set-up, you will need 1 ft of space behind the EVc-30 for air circulation. The cooling box and fan (provided) should be set up in front of the EVc-30, with enough room to navigate around the sides of the battery pack (when placed upon the cooling box).
How much energy/power does the EVc-30 use?
The EVc-30 uses between 800 – 300 watts depending on the reconditioning step (based on 30 channels). The cooling fan uses about 200 watts (120 V, 1.7 A). The total energy consumption for a 20 hour reconditioning process, across 30 channels: (600 W x 20 hr) + (200 W x 20 hr) = 16 kWh. The current average electricity price in US is 14 cents per kWh, so the total daily EVc-30 electricity cost* is about $2.24.
What accessories come with the EVc-30?
The EVc-30 comes with:
Laptop with EVcharge & PackBuilder™  installed (used to run the instrument)

Thirty custom cables (connects battery modules to front panel)

USB cable (connects instrument to laptop)

QR code reader (to keep track of module inventory)

Cooling box with cooling fan (keeps modules from overheating during reconditioning)

Adjustable torque drill (maximum torque of 50 in-lbs for cable to module connection)
What else do I need for a successful reconditioning business?
Initially, we recommend having at least ten hybryd battery cores in your inventory. This will provide you with enough modules to start building a few battery packs. The larger your module inventory, the more balanced your packs will be. 
Need cores? A3 Global and NuVant Systems can provide our customers with a reliable source of used cores AND brand-new after-market module sets. By offering batteries with brand-new modules installed, you can replenish your core supply with cores directly from customer vehicles. Find the right balance between offering reconditioned modules and brand-new modules.
For more information, contact a sales engineer here.
*The content contained in this post is for informational purposes only. Rates vary based on location. A3 Global & NuVant Systems are not responsible for any errors or omissions contained in this post.