September 27, 2022
In a previous post, we covered how the NuVant EVc-30 Battery Reconditioner brings value to repair shops and car battery businesses around the world. The simplicity and convenience of the EVc-30 makes it a key component of any battery reconditioning venture. You can quickly grow a large module inventory for building hybrid battery packs.
The NuVant EVd-40 is designed to perform a load test on a battery pack (up to 40 modules) while monitoring the voltages of every module. This allows you to identify any "weak" modules that drop in voltage when submitted to high discharge currents.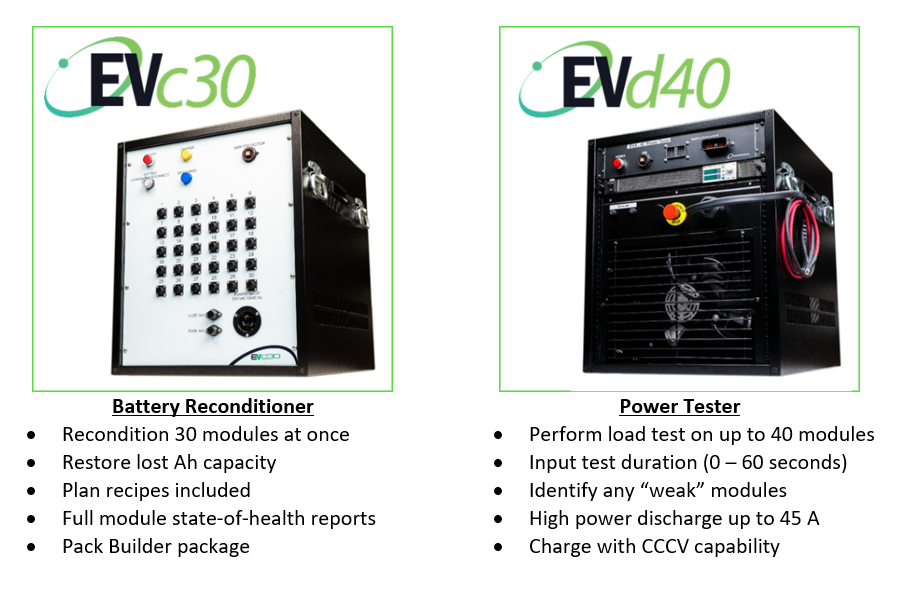 The EVc-30 was designed to recondition modules, which only requires a current range of ± 5 amps. A low percentage of modules have been found to fail under high current discharge, even though they have high capacity and low internal resistance. Previously, the rebuilt battery packs were placed in vehicles and test-driven for a few miles to reveal any "problem" modules. The EVd-40 was developed to simulate this procedure with less time and labor. It can discharge the pack under high current (up to 45A) while simultaneously monitoring the voltage of each individual module. The vehicle monitoring system can only measure "block" voltages, every set of two modules. This means that the EVd-40 has a higher precision and provides more detailed results (see below).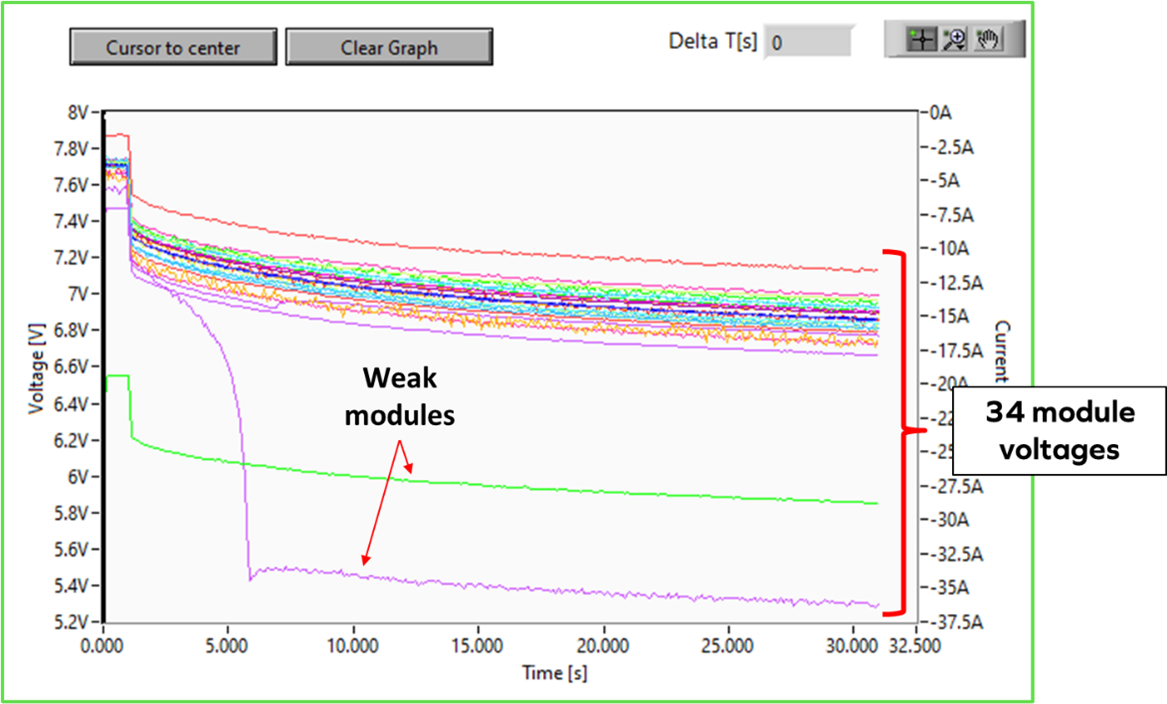 The EVd-40 can power test up to 40 modules at a time using the universal module harness. This allows you to connect hybrid batteries from the Toyota Prius C, Prius, Camry Hybrid, and more. The built-in charging power supply lets you charge the modules back up after testing. The sophisticated CC-CV (constant current contact voltage) feature enables charging of different battery types and can be used to trickle-charge your battery inventory.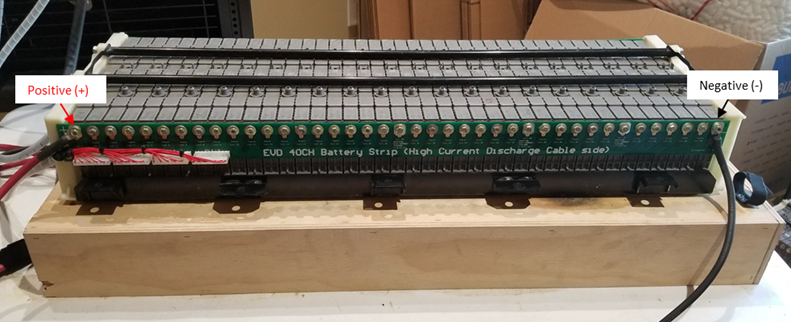 The EVd-40 can be used pre-reconditioning as well, to eliminate modules before placing on the EVc-30. However, the primary role is to quality control any battery packs coming out of your shop, by catching any modules that could cause pack failure.
The NuVant A3 Workflow System demonstrates how to incorporate the EVd-40 into your business. After using PackBuilder to select a set of modules, place them onto the EVd-40 for power testing. If any modules fail during the test, replace them with modules that have similar state-of-health parameters. Once your pack passes the power test, simply charge the modules using the built-in charging power supply and fully assemble your battery pack.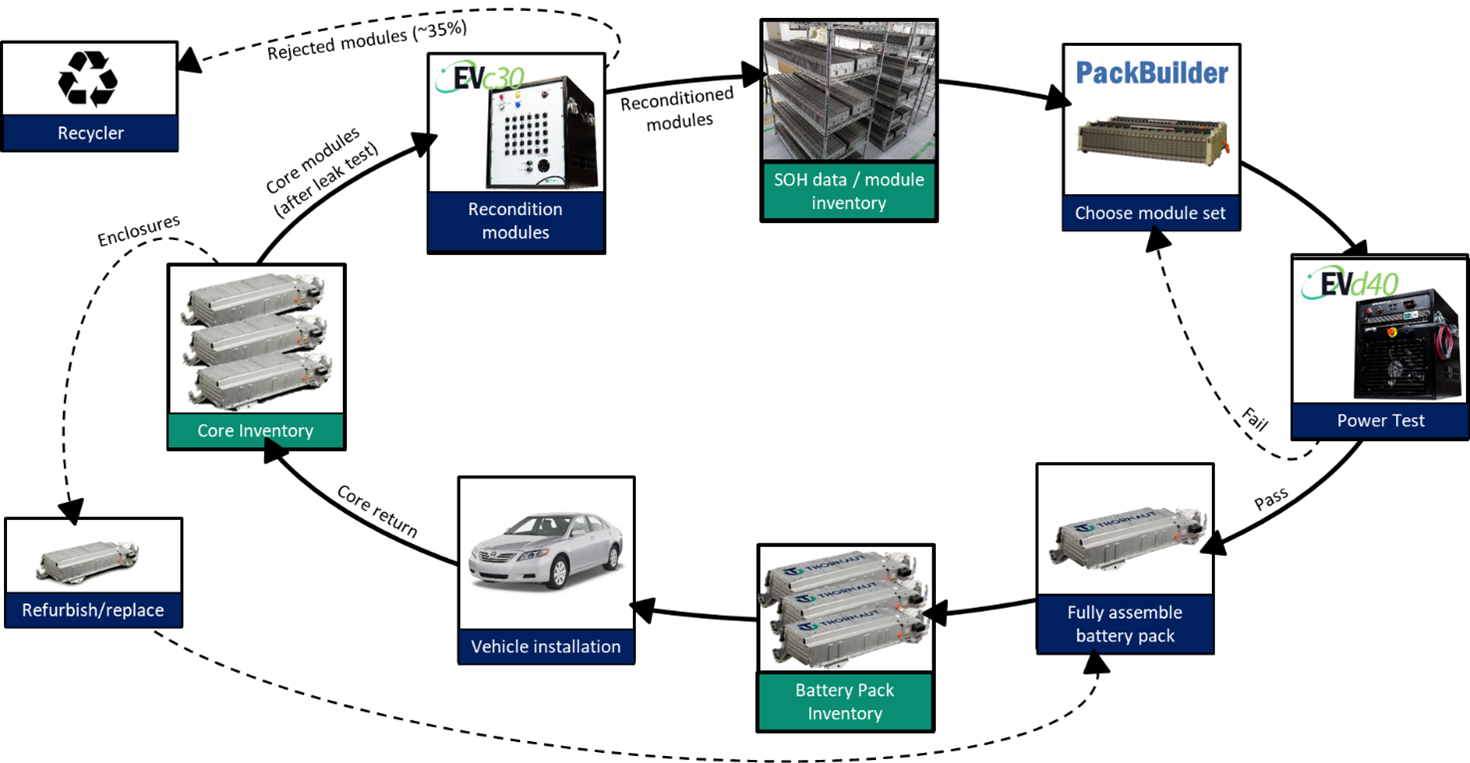 Every EVd-40 comes with the Universal Harness, a laptop equipped with software, online personal training, instructional video, and user manual. Stop test-driving every battery pack that you build. Save time and money with an EVd-40! For more info, watch our video on the topic by clicking here (will redirect to YouTube).